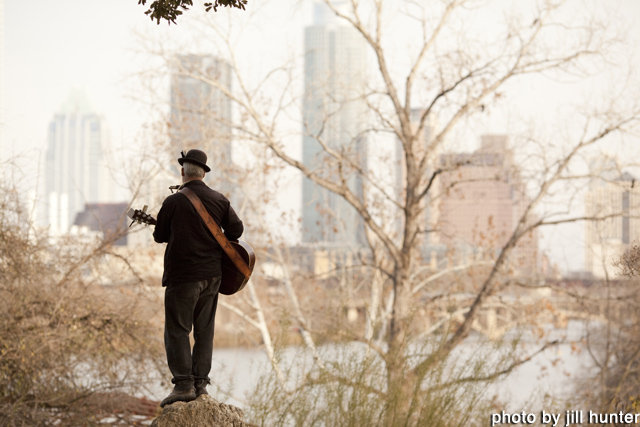 born in virginia, woode wood lived on multiple coasts (los angeles, baltimore, and key west) before arriving in austin, texas, in 1994. (in fact, in the 70's he hitchhiked from coast to coast 12 times altogether.) after pursuing multiple occupations (cook, journalist, gas jockey), woode discovered his calling at age 36 when a neighbor in key west shoved a guitar in his hands (at his urging) and taught him five chords within an hour.
epiphany! he wrote a song that night and hasn't stopped since. later, he was inspired to move to austin after seeing ann richards on johnny carson; during her eight-minute segment all richards talked about was the vibrant austin music scene.
woode wood's music is all original.
'when i started making music in 1992 the lyrics were there to begin with, and i've heard melodies in my head since i was born. i've been creating music since then and learning how to play and sing what i hear in my head. my 27th record, 'kids [too]', is a testament to this growth.'
woode loves music and doesn't really adhere to any labels or genres. 'i always say americana, roots rock and modern folk when asked because that encompasses alot, and in the music business an artist is forced to describe their music at every turn. to me all music is folk music, because all of it stems from the human experience. i coined the term modern folk because it's so absurd to have to put everything in a box in order to make it more palatable. i figured i'd come up with an absurd term, that encompasses all music. i am constantly listening to other artists, old and new, and love the variety, amount and quality of music out there. i try to spread love and encourage art and believe it comes through in my music. i often say there are no bad genres, just bad performances. anything is valid as long as it doesn't hurt someone and it's from the heart with passion.....'
biography written by s. kirk walsh woode's bicycle is expertly maintained by jack & adam's bike shop austin, texas.

woode wood is available on all music download services including iTunes
email woode at : woodewood5@gmail.com